H2O Wireless Mobile

(AT&T network) – Prepaid Credit Information.

Just $9 each quarter

with auto recharge.

Pay as you go credit from H2O Wireless
Your Mobile Alarm comes with an installed and activated SIM card from H2O Wireless. (AT&T network). Along with a local mobile phone number for your pendant you'll have a prepaid credit amount of $10 loaded onto your H2O Wireless 'Pay As You Go' account that we'll set up for you and the details for your account are sent in the welcome letter. This credit lasts for 90 days from activation and can easily be set up to auto recharge your credit card when credit is running low. The next 90 day recharge can be as little as $9. The great thing about this plan is that applying auto top up means you don't need to manually keep an eye on your credit. We'll set it all up for you so your alarm is ready to go out of the box.

Checking and topping up your credit
It is a good idea to check on your remaining credit with H2O Wireless regularly to make sure you have enough remaining. You can do this online or using the free app. Make sure your alarm is turned on and then once logged into your account click recharge and select auto-recharge. Here's how it's done in pictures. Now your card will be charged a $9 top up every 90 days. In the unlikely event you use more credit than $9 every 90 days then just click recharge – recharge with credit card/debit card and add another $10. This is the cheapest and longest duration pre-paid plan in the USA and it uses the AT&T 3G network providing reliable coverage almost everywhere in the USA. When you order over the phone we'll ask you if you'd like us to setup the auto recharge for you meaning you don't need to worry about doing this yourself.

To check your credit go to H2O Wireless and login at the top right of the page. You will need the 'mobile account username' and your 'mobile account password'H2O Wireless mobile number and password' supplied with your purchase. Once you are logged in you can view your remaining credit amount. If need more credit you can recharge your account or set up auto top up there. You can also use the H2O Wireless app.

LiveLife Alarms is not able to top your credit up for you due to privacy reasons. Remember the H2O Wireless Mobile account is in the purchaser's name and we do not keep a record of how much credit you have remaining.
What happens if my prepaid credit runs out
If the credit runs out the pendant will not be able to call out to the emergency contact numbers and send the help messages. Other features that require voice calls and text messages will not operate until you top up with some more prepaid credit. 911 will still receive a call if 911 is one of the programmed numbers.
How much credit will the pendant normally use?
When you use the Mobile Alarm simply as a medical type alert when help is needed, the $36 each year should be plenty. You use credit up when the pendant dials out to your emergency contacts and someone answers. You also use credit up when the pendant sends text messages. Incoming calls are not charged for.
What could cause the pendant to use credit much quicker?
The main way you can use up your credit quicker is by using the 'Side Talk Button' feature. This features allows you to press the side 'Talk' button and make a call to a nominated person in your emergency contact list. When you do this you are using the pendant just like a mobile phone and normal call charges of 5c per minute apply. H2O Wireless will send you a prerecorded short message if your balance falls below $2.
Is there any ongoing charges?
No there are no contracts, monthly plan fees or ongoing charges. You should consider enabling auto top up with H2O Wireless. With H2O Wireless you don't need to check credit if you have an auto top up set up.
Will my credit card be debited at any time?
Your H2O Wireless account is a 'Pay As You Go' arrangement so you will not be charged any costs apart from the initial purchase price of the LiveLife Mobile Alarm.
H2O WIRELESS 'PAY AS YOU GO' CALL & TEXT RATES
Cost of using pendant
Outgoing calls
5c per min
Text messages
5c each
$10 credit gives you
Approx. 35 x 5 min calls
200 text messages
What does pressing the help button cost?
Sending five help messages
When someone answers help call
If '911' answers help call
What are the ongoing costs?
H2O Wireless (AT&T network)
When recharging with prepaid credit please check the H2O Wireless website for information on the latest call and text rates.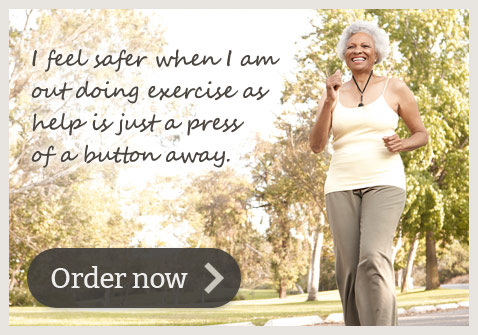 Mobile Coverage disclaimer
The H2O Wireless Coverage Maps are approximate only. Actual mobile alarm coverage depends on where you are and the device you are using. Customers should be aware that the mobile coverage maps displayed have been created using tools that predict the likely areas of coverage.
Not every particular location within the identified coverage areas has been individually tested for coverage. This means that while the footprint of coverage outlined on the maps is generally accurate, there will be specific areas described as being within a coverage area where a customer's mobile alarm will not work.
This is a common characteristic of wireless systems. For example, coverage could be degraded or non existent in specific locations due to certain physical structures or geographic features or as a result of the device used. Physical structures which may block or inhibit coverage could include basements, lifts, underground car parks, concrete buildings, tunnels and road cuttings. Geographic features which may block or inhibit coverage could include formations such as hills and mountains or even trees.
GPS functions disclaimer
The LiveLife Mobile Alarm has built-in GPS technology that it uses to fix the location of the pendant with an accuracy of 2.5 yards. In order for the GPS functions to work it requires a line-of-sight connection to satellites in the sky. For the pendant to receive the signal it needs to be pointed to the sky. It normally takes a few seconds to receive the signal and work out the co-ordinates of it's exact location. It can take up to 10 minutes to get it's first fix out of the box.
In the event that the pendant cannot receive the GPS signal it will revert to showing it's last known position. This is the location of the device when it was last able to fix it's location by satellite. The device conserves power by only trying to get a GPS fix when the device is moved. Because of this we cannot that when the device is activated the location given is always the current position at the time of activation or that when someone tries to locate it via sms that it will know it's current position.
Underground carparks, lifts, concrete buildings, tunnels and other constructions can block the signal from satellites to the pendant. It is possible that if a wearer of the pendant is in a location where there is no GPS signal that there may also be no 3G mobile signal meaning the function of the pendant will not operate till the wearer moves to an unobstructed location.